There is no need of any validation for the fact that integrated ERP suite has lent best impacts on different areas of business. For a profitable and growing business, ERP is not just a mare necessity since there is huge amount of data coming in and out inside the company. ERP can significantly improve efficiency of human resource, strategic alignment and finance management. Therefore, it is almost impossible for them to manage business in a profitable way without taking the help of an integrated system.
With ERP manufacturing software one can generate reports on any of their production plans on the basis of material availability, stock requirements, order position etc. It assists production managers in excellent management of their urgent requirements and ad-hoc needs, which is quite common among the production scenarios. ERP solutions have eased the task of stake holders in MNCs, whether it is root level, top management, supervisors or senior managers. With ERP, one can earn great improvements in the areas of productivity and efficiency viz logistics, production, finance, accounts, or other areas.
ERP software solutions of these days are totally customized and cover everything needed to run any organization no matter the company is small, medium or full-fledged firm. It comprises system initiating from employee inside a gate to the end products for clients. Facilities such as customer dissatisfaction complaints, tax details such as tax, sales, excise etc, inventory, purchase, sales and all are provided. For maintaining all the things high level of security control is a must. Ultimate benefit of ERP manufacturing suite is that it will help the company earn better benefits and enhanced productivity.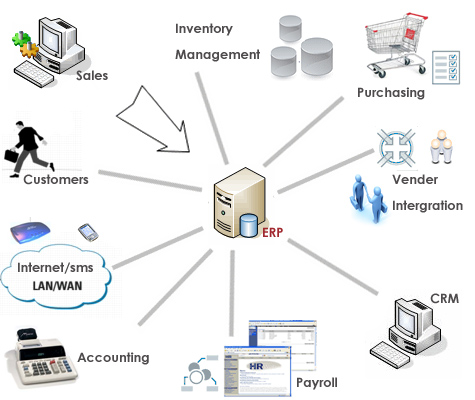 ERP covers the following functionality requirements of most of the manufacturing and non-manufacturing organizations
Sales
SFA(Sales Force Automation)
Enquiry/Quotations
Sales order management
Billing
Stock transfer
Exports
    Procurement(Supply Chain)
Product/Services management
Sub-contracting management
Supplier management
Materials
Inventory control
Warehousing
Dispatch
Stock reconciliation
Financials
GL(General Ledger)
AP/AR(Accounts Payable and Receivables)
Cost Centers
Budgeting
Vouchers and Day Books
Trial Balance, Balance Sheet and other financial reports
    HRIS (HR & Pay Roll)
Personnel Management
Recruitment/Appraisals
Training
Attendance recording and management
Payroll
    Executive Information System (EIS)
Top level macro level reports for the Top management
   Statutory Requirements (Country based Tax structure for Statutory compliance)
Manufacturing
Bill of material
Machine allocation
MRP
Shop floor management
Production Capacity planning
Monthly Production schedules
    Fixed Assets and Costing
Processing
Asset Depreciation and Transactions
Expenses allocation
Budget/Forecast Analysis
Product/Project costing
    Equipment Maintenance
Preventive and Breakdown Maintenance
Service Order management
    Customer Care
After Sales Support Management
AMC Management
Complaint management
Management Dashboard
Top level Graphical Analytics for Top and Senior Management
Corporate Portal
Knowledge management
Employee Self Service Applications
Corporate chat/Web based e-mail
PIM Utilities
Technical Forums
System Administration
Users and Role definition and privileges
Creation of new companies
Auto Back up Tool
For more detail about our ERP solution Contact Us